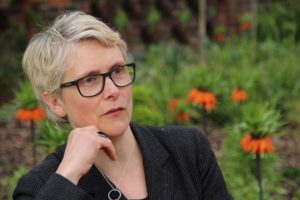 Friday 27 January @ 5 pm in the T.S Eliot Lecture Theatre, Merton College (to be followed by a drinks reception in the foyer)
Woman. Alone: Â Directing opera now.
Katie Mitchell is one of the few senior women working in opera in Britain and mainland Europe today.  She has worked here at English National Opera, The Royal Opera House, Glyndebourne Festival and Welsh National Opera. She is currently opening the revival of George Benjamin's Written on Skin at the Royal Opera House whilst preparing for George Benjamin's second commission scheduled for 2018. She has also worked extensively in Germany, France, Austria and Scandinavia at houses like The Staatsoper, Berlin, The Salzburg Festival and Royal Danish Opera.  She is currently a resident artist at The Aix en Provence Festival where she has directed five operas including Pelleas and Melisande and Handel's Alcina.  IN her first 'Conversation', she will describe her background in theatre and how she fell into opera to become one of its leading international lights.
Entry is free, but booking is advised:
https://www.ticketsource.co.uk/newchamberopera
Saturday 28 January @ 9.30 am in the Ante-Chapel, New College
Acting Handel: Â How to bring the da capo aria to life on stage.
Katie Mitchell will draw on her recent experience of directing Handel's Alcina at the Aix en Provence Festival to run a workshop giving insights into how to make the da capo aria work dramatically.  These arias are notoriously difficult for opera singers to perform on stage and the workshop will be offer acting ideas and concrete tips to help the young singer navigate this tricky form.  The workshop will take the form of a 'masterclass' where young singers are directed live by Katie in front of the audience.  There will also be opportunities for some audience participation.  Footage of the original production of Alcina will also be seen as part of the workshop.
Entry is free, but booking is advised: