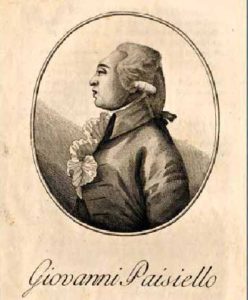 Giovanni Paisiello
sung in an English translation by Gilly French and Jeremy Grey
Conductor – Steven Devine; Director – Michael Burden
Read a review of the production here.
5 (Preview), 8, 11, 12, 14, 15 July 2017
The Warden's Garden, New College
The Evening's Events
6.00pm: Drink in the Cloisters
6.30pm: Opera Part I, The Warden's Garden
Picnic Interval in the Cloisters (approximately 90 minutes)
9.15pm: Opera Part II, The Warden's Garden
10.15pm: Curtain
Tickets
July
5 & 11 https://www.ticketsource.co.uk/newchamberopera
8 & 14 Old Members and Friends of New College (01865) 279509 (open to general public from one week prior)
11 OXPIP (01865) 778 043
12 Friends of Oxford Botanic Gardens (07722) 605 787
15 Friends of WNO (01865) 408 045
The story of The Barber of Seville, best known to modern audiences through Rossini's Il barbiere di Siviglia, had a number of previous settings, the most popular of which was by Giovanni Paisiello (1740 – 1816). The libretto comes straight from Beaumarchais, and is by the prolific (and capable) poet, Giuseppe Petrosellini. The opera was performed on 26 September 1782 at the Imperial Court in St Petersburg, and had lasting success; even after the premiere of Rossini's version, Paisiello's setting continued to be performed for some years afterward. Paisiello studied at the Conservatorio di S. Onoforio in Naples, originally as a singer. His years there were very successful, and he eventually became the composer for the Conservatorio's theatre. His works there were mainly intermezzos, but they won him operatic commissions for Bologna and Rome, and when he departed the Conservatorio in 1763, he was in a position to launch a successful career. In 1776 Paisiello was invited by Catherine the Great, Empress of Russia, and it was there that The Barber of Seville was conceived.
Cast List
Count Almaviva
Joseph Doody
Rosina
Kate Semmens
Bartolo
Giles Underwood
Figaro
Trevor Eliot Bowes
Don Basilio
Tom Kennedy
Giovinetto/Alcade
Alexander Gebhard
Svegliato/Notary
George Robarts